Mathematics REU at SMCM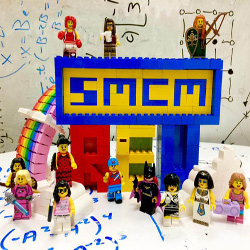 The REU at St. Mary's College of Maryland will not run in summer, 2023. The information on this page is for last year's program.
The program will bring 12 undergraduate students to the Honors College to engage in mathematical research, and includes seminars designed to prepare them for advanced mathematics courses. Students will also benefit from academic and professional-development activities. This REU is only open to students early in their college careers. Our goal is to attract underrepresented students to mathematics by providing access to research typically only available to those who are already highly accomplished in the discipline. Research topics have been carefully chosen to be accessible to those with a modest background in mathematics.
Note well: This REU is only open to early-career college students. The expected prerequisites are Calculus II and desire to work hard. If you've had a course in Vector Calculus, Linear Algebra or a bridge course like Intro to Proofs, that's fine, but students who have already had a course in Abstract Algebra or Analysis will not be considered.
What you get
Seven weeks conducting research on open problems in mathematics alongside prominent faculty members
Access to St. Mary's College facilities, including the beautiful St. Mary's River
A stipend of $3,500
Travel expenses plus room and board
Weekend outings to D.C., Baltimore and Annapolis
Applicant requirements
Success in Calculus I and II
No upper-level coursework
Full-time undergraduate in 2021–22
U.S. citizen or permanent resident
Willingness to work hard
Willingness to work with others
A love of (or at least a strong affection for) working on, thinking about and solving mathematical problems