Creating a Space of Their Own: Thai Bhikkhunis and Engaged Buddhism
Allison Mull is a senior majoring in Religious Studies with a concentration in Asian Studies and Women Studies. In Spring 04, she traveled to Dharmasala, India, where she did a study-abroad through Emory University on Tibetan Buddhist Culture and Philosophy. While there, she did her final project on the role of women in Tibetan Buddhism, where she interviewed a number of Tibetan nuns and Buddhist practitioners, and compiled her findings in a final project that combined an analysis of the role of women in Buddhism with the living voices of the women she interviewed.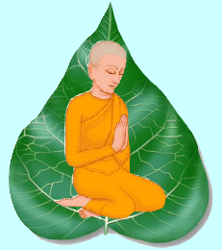 She has continued this line of research in her St. Mary's Project (a year long senior thesis), which focuses on the philosophy and religious practices surrounding the Tibetan Buddhist goddess Tara. Allison also plans to pursue graduate studies in Buddhism with a focus on gender and women's studies, and is thus perfectly suited for this trip to Thailand.
Her project entails investigating the role of Buddhist women practitioners at the Songdhammakalyani Temple, which is associated with challenging the male dominated roles of Buddhist monks as well creating Engaged Buddhist organizations to help underprivileged Thai women. Allison plans to participate in their daily meditation and chanting sessions, and to interview a number of the practitioners about their lives as Buddhists nuns and how they view Engaged Buddhism. She is particular interested in learning how the nuns put Buddhist ethics into the service of social justice and gender equality.