---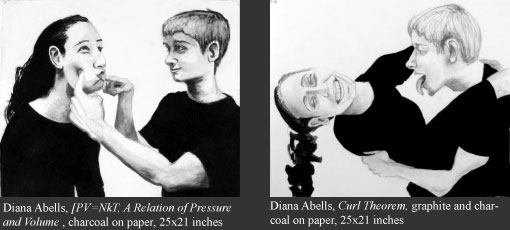 Physics and art are similar in their shared process of observation and description. Physicists strive to model and describe our environment through equations; artists strive to do so in visual images. Both have a foundation in non-verbal storytelling.
As a physics student, I find the translations between mathematical equations and physical experience are fused with my ability to relate the physical situation to my body. I experience most physics problems with a first person perspective in my mind. For example, when thinking about the physical relationship of pressure and volume for a gas, in my mind I can increase pressure on a gas with a piston. I can push harder and harder and feel the pressure push back at me, perfectly balanced but furious. My mind's eye swirls around the scene of angry particles pushing back against my sweaty hands, and suddenly I feel all tingly and excited.
The simple actions and narratives associated with the figures in the drawings are meant to represent simple physical concepts.
download a PDF of Diana Abells's Document Book (complete semester writings and research)
---

The dolls and their accessories that I have created are for everyone to play with. Everything you need is here; the characters, their clothing, locations, and a selection of stories. They are all interchangeable, and it is up to you to determine who and what fits each story. Do the stories you play out reflect your experiences? Does play say something about who we are and how we relate to each other? What kinds of stories do you bring to these dolls?
I believe dolls are toys that ultimately reflect and teach the gendered roles of society. Boys are given action figures to fight with, while girls receive dolls to dress up and nurture. The dolls and their accessories that I have created are meant to challenge these conventional ideas of gendered play. My goal is to create a new type of play with dolls that goes beyond the narrow definitions of gender that Barbie and Ken, American Girl dolls, or even Bratz allow for. By trying to include everyone's story, hopefully I can create a space where my own experiences with my gender and sexuality fit. The doll's bodies are politicized, but the way in which we play with them is entertaining, a more gentle subversion than political protest. I want them to be universally accessible by incorporating humor and play.
download a PDF of Tara Hutton's Document Book (complete semester writings and research)
---
Alyson Moore
Portraits of Strangers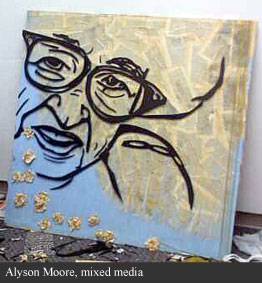 Strangers have always interested me.  People are fascinating creatures; they are millions of moments strung together in flesh, the greatest books never written.  We live our lives encountering thousands of these novels without ever looking past the cover. Think about the woman behind you in the grocery store, or the man next to you at the gas station.  Society teaches us to build walls between each other, keeping one another at a distance.  We are taught not to talk to people we don't know, to avoid eye contact on the subway.

This semester I've explored what happens when we push on these barriers, sticking our fingers through the cracks that get made. There is something electric about talking to a complete stranger, the rush of meeting someone I have no past or history with. It's almost synesthetic, sometimes I meet someone who reminds me of August or someone whose laugh is filled with blankets and rain.  These portraits are my attempts at capturing that initial feeling and impression. Portraits that go beyond appearances and into the feeling of being in that moment I meet them.
download a PDF of Alyson Moore's Document Book (complete semester writings and research)
---
Kathleen Overman
In Exploration of Memory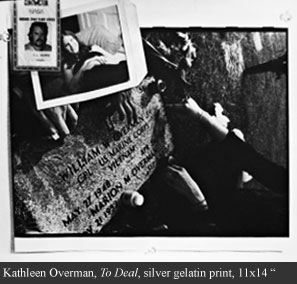 This semester I have been exploring my emotional response to the recent passing of my mother in the context of photography. I returned to our family home where I lived with my mother and sister and where I found her the day she passed away.  I combed through the house, taking pictures of its spaces and objects.  I also collected and took with me many of her souvenirs and personal effects to learn more about her. Once back in my studio, I experimented with adding text to these images as a way to more directly integrate my memories.  In the long run, I found the results effective but maybe too intense.  I want to make images that say something about loss but not in a morbid way. I want the audience to find their own relationship to the emotions in the pictures and not just have the work be about me. 
 
These realizations gave rise to my current work featured in this exhibition.  I again went home knowing I needed to see the space in a new way.  I found what I was looking for in light and shadow, the way natural light illuminates surfaces and highlights objects, the way shadows erase differences.  It was almost as if the light and its shadows created a dialog between presence and absence.  After printing these new images, I realized that the light and dark told the story on its own and I no longer felt the need to add text. My work, Grouping #1 (The Home) is the result of this experience. 
 
At the same time I continued my exploration of my family's material possessions.  I have spent much of my time this year in my studio space with the items that used to be on my mother's dressers.  On my trips home I found folders in closets and boxes of old family photos, many of which I had not seen before.  I began to discover more about my family than I had known while my mother was still living.  In comparison to the home images that focus on the ethereal, Grouping #2 (The Souvenirs) explores the way personal possessions and physical accessories can tell stories about my family and my own life. 
 
download a PDF of Kathleen Overman's Document Book (complete semester writings and research)
---
Allie Snyder
Absence Made Visible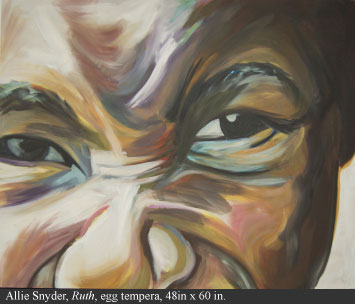 Photographs serve as a reminder of what once was; a moment that will never be retrieved except in the nostalgic realm of remembering and recreating the past. My work revolves around photographs that are now the only reminders of people who are no longer in my life. Catalyzed by the death of my younger brother, Avery, when I was nine years old, and solidified through my experience as a foster family and my most recent trip to a Ghanaian orphanage this past summer, I get lost in the power an image has to keep these people present, despite being physically out of my reach.
This semester I've set out to explore the paradox of these images, as they keep a person present while simultaneously exposing the void their absence has created in my life. As a painter, I am exploring different approaches to recreating these photographic images in ways that express this dichotomy. My most recent works reflect this goal by creating a physical void within my canvas, as the empty silhouette of the lost.
download a PDF of Allie Snyder's Document Book (complete semester writings and research)
---
Courtney Teed
Transfiguration of the Everyday: The Mundane into the Monumental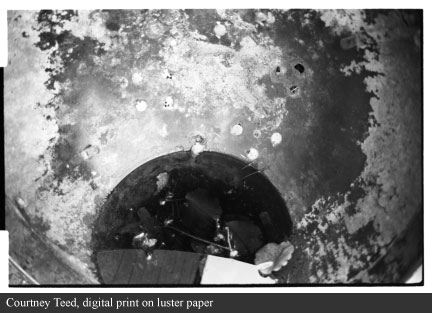 The photographs presented in this exhibition are the result of my ongoing study of mundane things. I am intrigued by odd, overlooked places, such as backdoor loading docks, storage areas, or crumbling former businesses hidden somewhere behind newly flourishing stores. I am often drawn to specific textures, such as industrial metals, rust, splintering wood, concrete, and gravel. But beyond the physical appeal, I am also captivated by a sense of loss and mystery that emanates from these forgotten places. My experience of photographing in these spaces is quiet and still, as if the space itself is vulnerable and open to my exploration. I often focus my camera on things that are dilapidated and discarded. For me they have an inescapable presence, a history I can't penetrate. I often wonder about their story-- how they came to appear as they do.  
 
This body of work is also about treating the photograph as an object that can instill certain reactions in the viewer. I'm especially interested in dealing with disorientation or distorted perception. I enjoy making someone wonder where and how a picture was taken, and allowing someone to feel changes in their spatial orientation while interacting with an image. By photographing monotonous things and transforming them into dynamic images that deal with moving through space, I hope to reconfigure them as monumental objects. 

download a PDF of Courtney Teed's Document Book (complete semester writings and research)
---
Allison Yancone
Nature and Captivity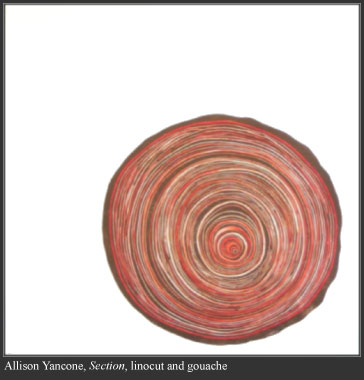 The human impulse to capture and categorize in an effort to better understand the world in which we live is an instinct that cannot be ignored; It enters into all of our interactions with the natural world. This unavoidable connection that we have with nature is evoked through our need to control and discover. The landscape that we find ourselves surrounded by is too large in scope for us to handle—the thought is too sublime. We fear this feeling of insignificance in the world and strive to avoid it, often through the minimizing of nature's scope. We mark the earth with our human hand in an attempt to literally leave our mark. We capture elements of nature to observe and classify. We apply language to define what we experience. This instinct is unpreventable and began in my artwork unintentionally. Eventually, I realized that I had to acknowledge and embrace this desire to control, organize, and capture what I was captivated by.
download a PDF of Allison Yancone's Document Book (complete semester writings and research)
---
Close Window (and Return to SMCM Art and Art History Web Pages)