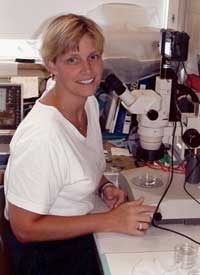 ---
212 Schaefer Hall
240-895-4598 office
240-895-4996 fax
kcrawford@smcm.edu
---
Education:
B.S. Univ. Massachusetts, Amherst, MA

M.S. Univ. Illinois, Urbana-Champaign, IL

Ph.D. Univ. Illinois, Urbana-Champaign, IL

Postdoctoral work : La Jolla Cancer Research foundation, La Jolla, CA

---
Why I teach at a small liberal arts college.
"Have you ever really had a teacher? One who saw you as a raw but precious thing, a jewel that, with wisdom, could be polished to a proud shine?"

From: Tuesdays with Morrie: An Old Man, a Young Man, and Life's Greatest Lesson.
by Mitch Albom.
So much of what we do in teaching and research is to make connections. We connect with our students in the classroom and help them to connect with a body of information. We connect our research with what has gone before and with the current work of others. Throughout this process are the individuals who share in that process and it is there, for me, where the richness lies.

Karen Crawford
Developmental Biologist ~ Associate Professor
---
Joined St. Mary's College of Maryland: 1991
---
Understanding the molecular mechanisms that direct patterns and form structures in development is what captures my imagination and drives my curiosity in science. I grew up on a farm in Indiana and for as long as I can remember living things have fascinated me. Specifically, it was the process of becoming, birth, growth, change and the repetitive patterns in things that caught my attention. This curiosity is what led me to be a scientist.
I chose to base my career at St. Mary's College because it allowed me to do the two things I most enjoy, teach and conduct research shoulder to shoulder with my students. As a result, I have been blessed with one of life's greatest privileges, helping young people discover their potentials, talents and futures. This privilege often begins in the classroom, and at St. Mary's College I teach Developmental Biology, Human Anatomy and Physiology, and Contemporary Bioscience, in addition to participating in our first year Principles of Biology course. In the classroom, I can get to know my students, their interests and dreams. This interaction frequently helps me to direct them to faculty pursuing research that might be interesting to them or helps them to connect with research projects in my own lab.

My research involves understanding the cellular and molecular mechanisms of pattern formation in developing and regenerating systems. In collaboration with my students, we study limb regeneration and metamorphosis in the Mexican axolotl, Ambystoma mexicanum, and have expanded our work to include exploring the molecular mechanism of regeneration in the fresh water oligochaete worm, Lumbiculus variegatus. Most recently, I have returned to the Marine Biological Laboratory, Woods Hole, MA, during the summers, and a body of work that I began during graduate school. At the MBL I study the embryonic development of the long-finned squid, Loligo pealei, and am able to prepare samples that my students can work with throughout the year at St. Mary's College.
In addition to my current service as chair of the Biology Department, I serve as chair of the Health Sciences Advisory Committee and assist students interested in careers in the health sciences.
Beyond St. Mary's College, I serve as the chair of the Professional Development and Education Committee for the Society for Developmental Biology [www.sdbonline.org].

Journal Articles: SMC co-authors are listed in bold.
David L. Stocum and Karen Crawford. (1987) Use of retinoids to analyze the cellular basis of positional memory in regenerating amphibian limbs. The Canadian Journal of Biochemistry and Cell Biology, 65: 750-761.
Karen Crawford and David L. Stocum. (1988) Retinoic acid coordinately proximalizes regenerate pattern and blastema differential affinity in axolotl limbs. Development, 102: 687-698.
Karen Crawford and David L. Stocum. (1988) Retinoic acid proximalizes level-specific properties responsible for intercalary regeneration in axolotl limbs. Development, 103: 703-712.
Karen Crawford, Helge Weissig, Francois Benette, Jose Luis Millan and Paul F. Goetinck. (1995) Tissue-nonspecific alkaline phosphatase participates in the establishment and growth of feather germs in embryonic chick skin cultures. Developmental Dynamics 204:48-56.
Karen Crawford and Donna Marie Vincenti. (1998) Retinoic acid and thyroid hormone may function through similar and competitive pathways in regenerating axolotls. Journal of Experimental Zoology, Special Issue: 50 Years of Limb Development, 282: 724-738.
Karen Crawford (2000) The Role of Microtubules During Blastodisc Formation of the Squid, Loligo pealei. Biological Bulletin. vol. 199, 207-208.
Karen Crawford (2001) Ooplasm Segregation in the Squid Embryo, Loligo pealeii. Biological Bulletin, vol. 201, 251-252 and cover image with story.
Karen Crawford (2001) Cover image: In vitro fertilized and cultured embryo of the long-finned squid, Loligo pealei. (Arnold Stage 27, 17 days in culture). Genesis 31.
Karen Crawford (2002) Culture Method for In Vitro Fertilization to Hatching of the Squid, Loligo pealeii. In press, Biological Bulletin. October (in press).
Karen Crawford (2002) Pronuclear migration of in vitro fertilized and activated eggs of the squid Loligo pealei, and its relationship to the embryonic axes. In preparation for submission to Developmental Biology.
Karen Crawford, Daniel Backof, and Sarah Cramer (2002) It's getting a head that counts, head regeneration is precisely regulated in the oligochaete Lumbriculus variegatus. In preparation for submission to the Journal of Experimental Zoology.
Chapters in Encyclopedias:
Karen Crawford (2000) Regeneration: Growth Factors. For the Encyclopedia of Life Sciences, Macmillan Reference Limited, Stockton Press. Available via the ELS Macmillan website, ELS@nature.com, and in paper form from Macmillan Press.