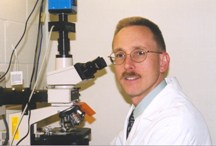 ---
216 Schaefer Hall
240-89J-BYRD (5-2973) office
240-895-4996 fax
jjbyrd@smcm.edu
---
Education:
B.S., Cook College, Rutgers University
M.S., Penn State University
Ph.D., University of Maryland

---
A liberal education is at the heart of a civil society, and at the heart of a liberal education is the act of teaching.
A. Bartlett Giamatti
Jeffrey J. Byrd
Microbiologist ~ Professor and Chair of Biology
---
Joined St. Mary's College of Maryland: 1990
---
I have been interested in bacteria from the very first time I saw them under the microscope. This, combined with my interest in showing others these wonderful living organisms, led me to into teaching at a liberal arts institution. This love for teaching stretches into my non-classroom activities as well in that I am currently the editor in chief of the Journal of Microbiology & Biology Education, formerly Microbiology Education (published by the American Society for Microbiology), a member of the Committee on Undergraduate Education for ASM, a commissioner on the Middle States Commission for Higher Education and a member of the Faculty for the 21st Century of Project Kaleidoscope. In addition to my love for microbiology and teaching, I have a love for sports. Therefore, I am currently the NCAA Faculty Representative for SMCM.
Courses taught include:
Microbiology
Virology
Genetics
Contemporary Bioscience - Biology of Infectious Disease
St. Mary's Projects
My research interests include:
Starvation survival of bacteria in the environment. This work is currently centered around the genes regulated by the rpoS system.
Natural products from soft corals. This work is currently centered around an antimicrobial agent from Xenia elongata.
Antimicrobial agents from the process of autoclaving glucose in the presence of phosphates.
Bacterial pathogens isolated from soft corals.
Books Published
Complete Idiot's Guide to Microbiology - Byrd and Powledge, Alpha Books. Due out in Nov 2006
For further information see my Byrd's Nest homepage.